Joining forces with 2LG Studios
The Rise collection has been designed with interior designers, 2LG Studio
Comprised of beautiful arched cabinetry, fluted glass and a curated colour palette, the collection combines industry-shaking design made with an outstanding commitment to craftsmanship.
A room to entertain, inspire, work and live from
Together with 2LG Studio, we have created the ultimate multi-functional space
An area to cook & entertain; a workspace that can be closed off and hidden laundry appliances.
Interior design studio, 2LG Studio have become synonymous for creating cutting-edge but accessible design and The Rise collection is a culmination of their talents combined with our own design and craftsmanship expertise.
Russell and Jordan's kitchen, as with any big house project, has been a long time in the making and is the culmination of a three year renovation project to their South East London home. As well as being a place to live and entertain, Russell and Jordan needed to combine workspace into the design of their kitchen/dining room.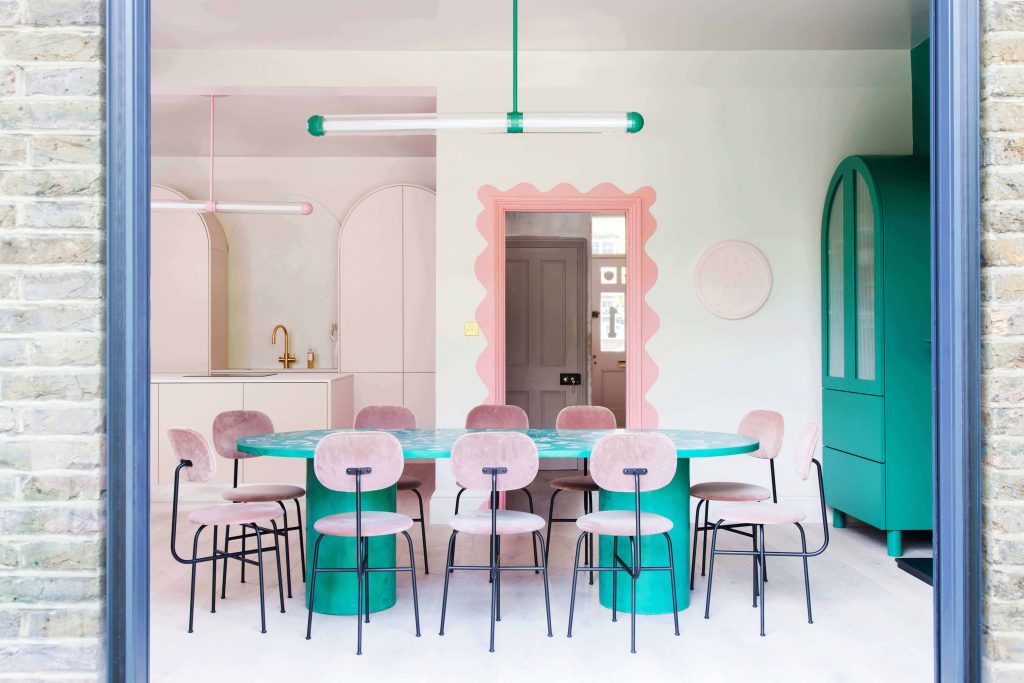 "Particularly in city-centric homes, where space is of a premium, we're increasingly being asked for savvy storage solutions and multi-functional rooms by our clients. The biggest challenge we faced with Russell and Jordan's kitchen was exactly this – it needed to combine workspace, entertainment space and living space, whilst being forward-thinking in its design,"
We have created something that is beautifully bespoke and crafted on a mutual commitment to excellence
An environment for growth and happiness
Russell and Jordan's kitchen is the biggest project they've undertaken in their London home. When they took on the property, it was in a bad state of disrepair having been vacant for over a year. The kitchen itself was in fact the smallest room in the house (it would perhaps have been the pantry originally with the kitchen in the central room, with the main stove/fireplace and the dining room in another separate space off the hallway. It was filled with old vinyl on the floor, polystyrene tiles on the ceiling – very out of place for a 4-bedroom detached Victorian property.
"We had been planning for the kitchen from the day we moved in over three and a half years ago, but we knew we didn't have the funds to begin the work at that time as it was more important to get the roof fixed, the chimneys re-stacked and the windows replaced. The kitchen planning had plenty of time to evolve. We spent a lot of time trying out different configurations of the space and eventually decided to open it all up to make a large kitchen/studio space where we can both work and entertain," comments 2LG Studio
"Visually we wanted the space to reflect us and took inspiration from film and theatre and from our trips to Milan Design Fair and New York Design Festival. We also love to disrupt the norm and here we wanted to specifically disrupt the period setting of the architecture. The arches of the kitchen, the colours, the futuristic strip lighting – all of these elements help to disrupt the setting and make it home for us."
"Our space is our living space. That means work, play, create, entertain and cook. It is going to be a hardworking space and we love to have friends and family and clients over. This is where working with Rebecca was so crucial for us – she ensured all the elements we needed were included in a way that fit the design."
"What's our favourite part of the kitchen? We're so excited to finally own a dishwasher! And the hot water tap has kissed goodbye to having to have a kettle out (we don't like clutter). But without a doubt, our favourite part is the arched cabinetry. They play with the space and give amazing negative space around them that adds flair and luxury but inside, they give a wonderful opportunity to display special pieces. We have lots of vases we collect unknowingly, so now have a home for these beauties."
"The biggest piece of advice we can offer is to plan, plan, plan. Give it enough time in the planning stage and then you will have a much better result. We planned for a while, but the actual work took just 10 weeks."
"Our brand has a rich history in developing innovative kitchen designs that are wholly shaped around the needs of our clients. Through working with Jordan and Russell, two incredibly talented interior designers, who are so progressive in their approach, we have created a collection that we are immensely proud of. The synergies between our businesses are very evident – both centred around simple, elegant, bold but functional, design. The Rise collection is a true showcase of that. With our experience of product design and manufacturing expertise and their vision for something so fresh and modern for the industry, we have created something that we know will leave a mark on our industry for years to come. We are excited to be the first kitchen brand to bring the arched cabinetry and freestanding unit to market. Robert Rowley from our installation partner LSI Interiors, did a wonderful job installing the kitchen to perfection."
The key to this simple collection is an intricate installation
A mutual commitment to excellence
A list of all of the suppliers involved in their stunning project:
LSI Interiors  | Haywoods | Cameron Design House  |  Mylands  |  Bisque  |  Caesarstone  |  Georg Jensen  |  1st London  |  Kris Knight
Request more information
WE'LL BE IN TOUCH AS SOON AS WE CAN
Inspired by you . Crafted by us
KEEPING IN TOUCH
Sign up to keep updated with helpful advice and inspiration for planning a new kitchen or bedroom, as well as exciting product news and our latest offers.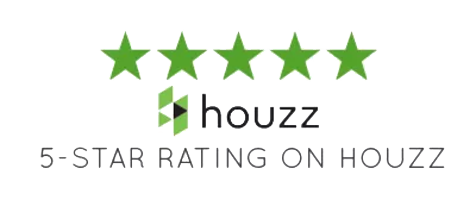 I really love making people's kitchen dreams become a reality and seeing how happy they are once the kitchen install is all finished.