Real kitchens with a splash of colour.
At John Lewis of Hungerford, we have always had a passion for colour.
We love how it can easily convey your very own style and personality. Our carefully curated colour palette offers a delightful choice of tones and hues, and includes 18 beautiful new colours for 2018. 
We know kitchens are one of the most used rooms in the house and they need to be durable to withstand the knocks of everyday life.
This is why we have developed our own award-winning, hard-wearing paint formula. Crafted by hand and then with pain applied to complete a hand-sprayed finish, our paint will continue to look fabulous for years to come, even in the busiest of kitchens.
We were one of the first in the industry to paint kitchen cupboards and our designers are experts in colour and can guide you through your colour choosing process. They know exactly how to use colour in the right way to bring your dream kitchen to life. Choosing the kitchen colour is often our clients' favourite part of the kitchen design journey.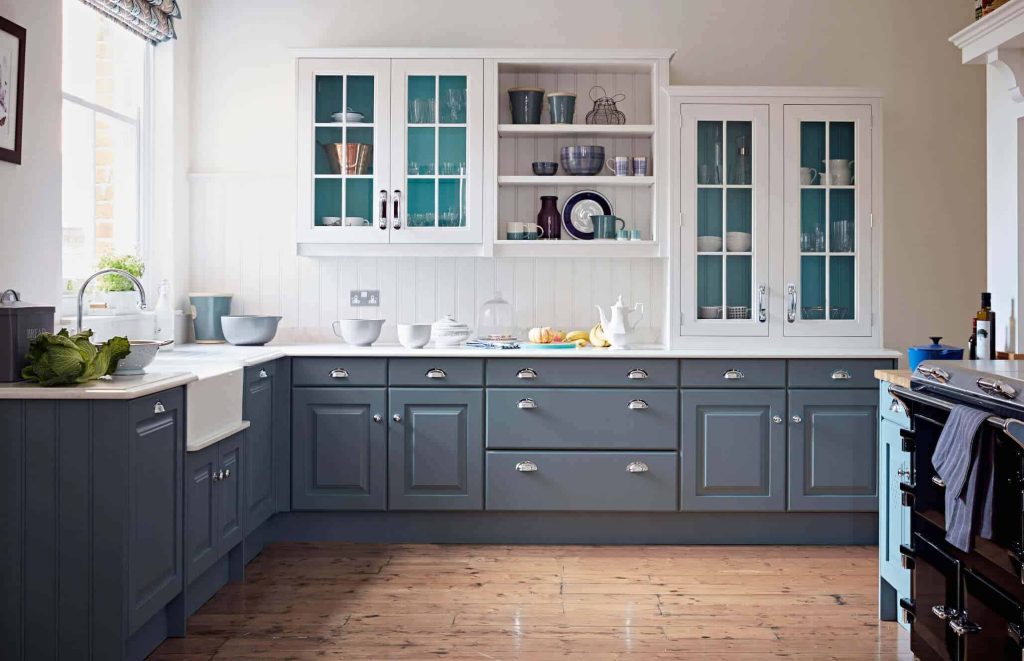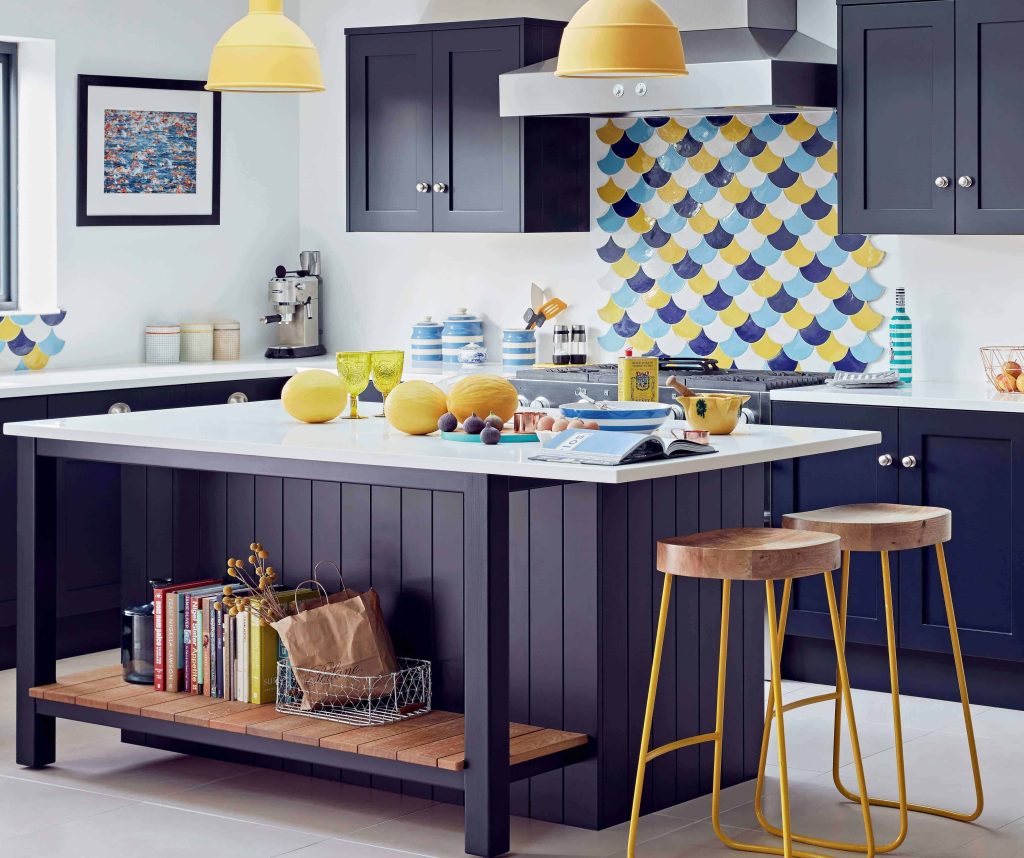 Our range of beautiful colours truly allows you to make your kitchen your own.
Choose our Satin Eggshell for a stylish, soft finish or from our 14 High Gloss colours for a hand-polished finish and an exquisite depth of colour.
Colour can be used in so many different ways; contrasting light and dark, blending different shades, or adding a splash of vibrancy. With our huge existing range and our colour matching service, it's easy to bring the right colours into the heart of your home.
Painted in our ever-popular Cobalt Satin, this has been made into an eye-catching kitchen by simply choosing a vibrant yellow as an accent colour. Our client has then hand-picked beautiful accessories, such as the funky pendant light fittings and impressive fish scale splashback to really compliment the look and feel of the room. This space is a wonderful example of how collaborating with our talented kitchen designers can help you express your personality and individual style.
Take a look at some of our clients' kitchens, which have truly harnessed the power of colour.
If you are looking for something a little more subtle, then simply painting a kitchen island in an alternate colour can make the world of difference to the impact your kitchen makes. This client chose a timeless, neutral colour for their cabinets, teaming it with a beautiful blue colour palette that runs from the kitchen island to the supporting steels.
The final result – a fabulous barn conversion full of character. Simply Beautiful.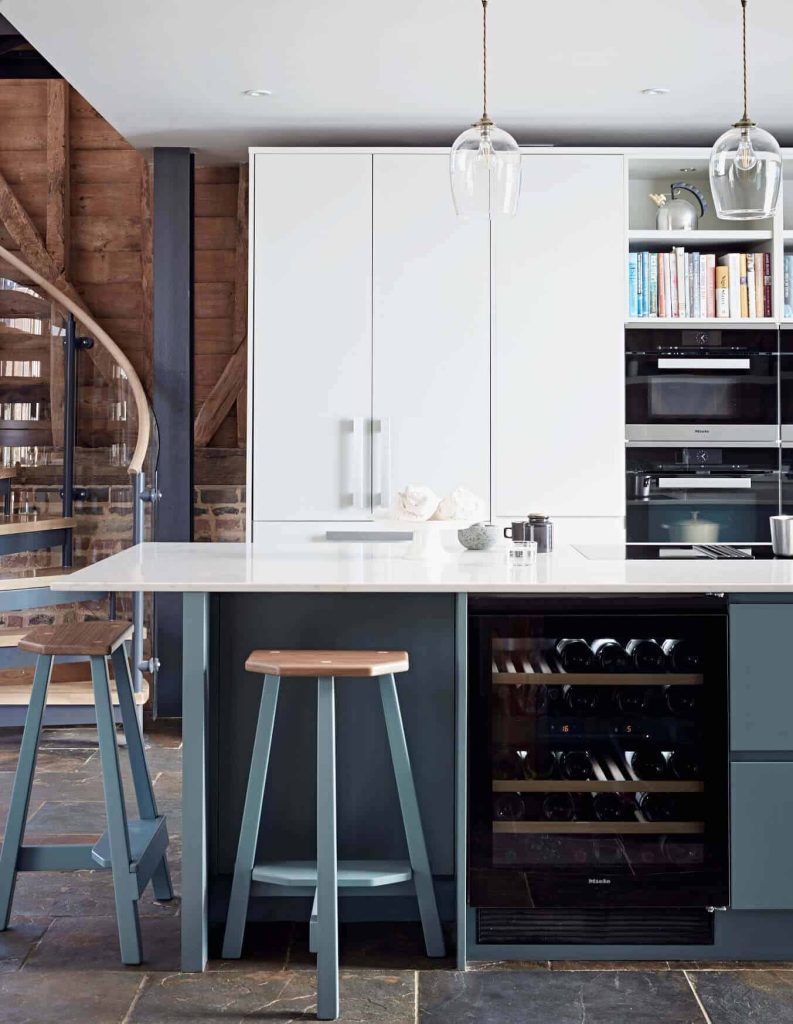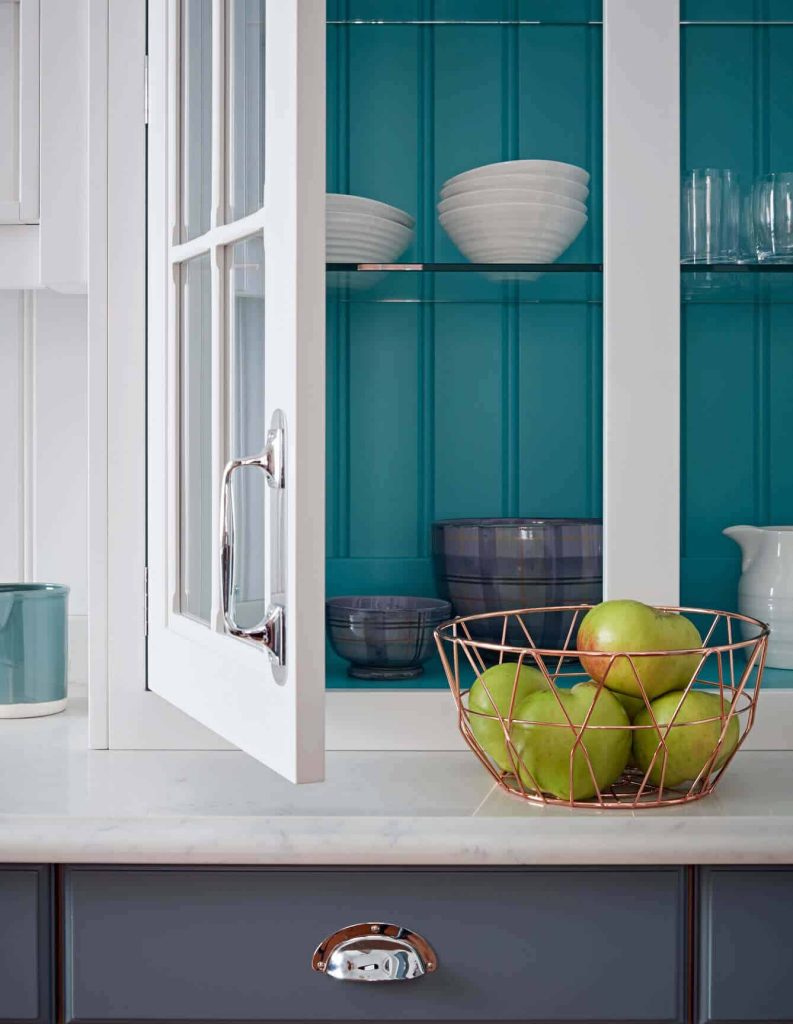 Vibrant colours don't have to take over your entire kitchen

.

If you're feeling a little less brave but still want to make a big statement, adding a splash of bold colour to your kitchen cupboard interiors is a fantastic way to make an impact. This fabulous, traditional Artisan kitchen has been given a modern touch by this client's choice in colour. The moment they saw it, they fell in love with our glorious Persian Green, and who could blame them. This stunning colour is definitely eye-catching and looks sublime against the white, glass-fronted cupboards. A bold colour inside cabinets will give and instant brightening effect and when teamed with some spotlights can be turned into the focal point of your new kitchen

Be brave and choose striking colours to really grab attention. 
Inspired by you . Crafted by us
KEEPING IN TOUCH
Sign up to keep updated with helpful advice and inspiration for planning a new kitchen or bedroom, as well as exciting product news and our latest offers.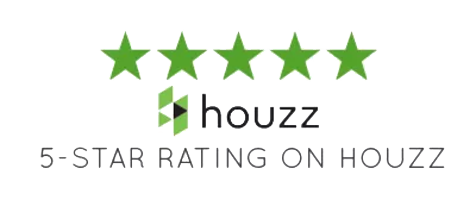 I really love making people's kitchen dreams become a reality and seeing how happy they are once the kitchen install is all finished.